Campsite Map
The map of the campsite is given for information and has no contractual value. The locations are assigned by the campsite in terms of its availability. But know that we always try to fulfill your requests.
For the months of July and August the reservations are almost complete! View the still available pitches in the list below!

The campsite map can be found under this list.
This year, we have pitches available (
blue pitches on the campsite map below

) for Booking from Saturday to Saturday only.

List of pitches that are still available in the months of July and August (red is already occupied!)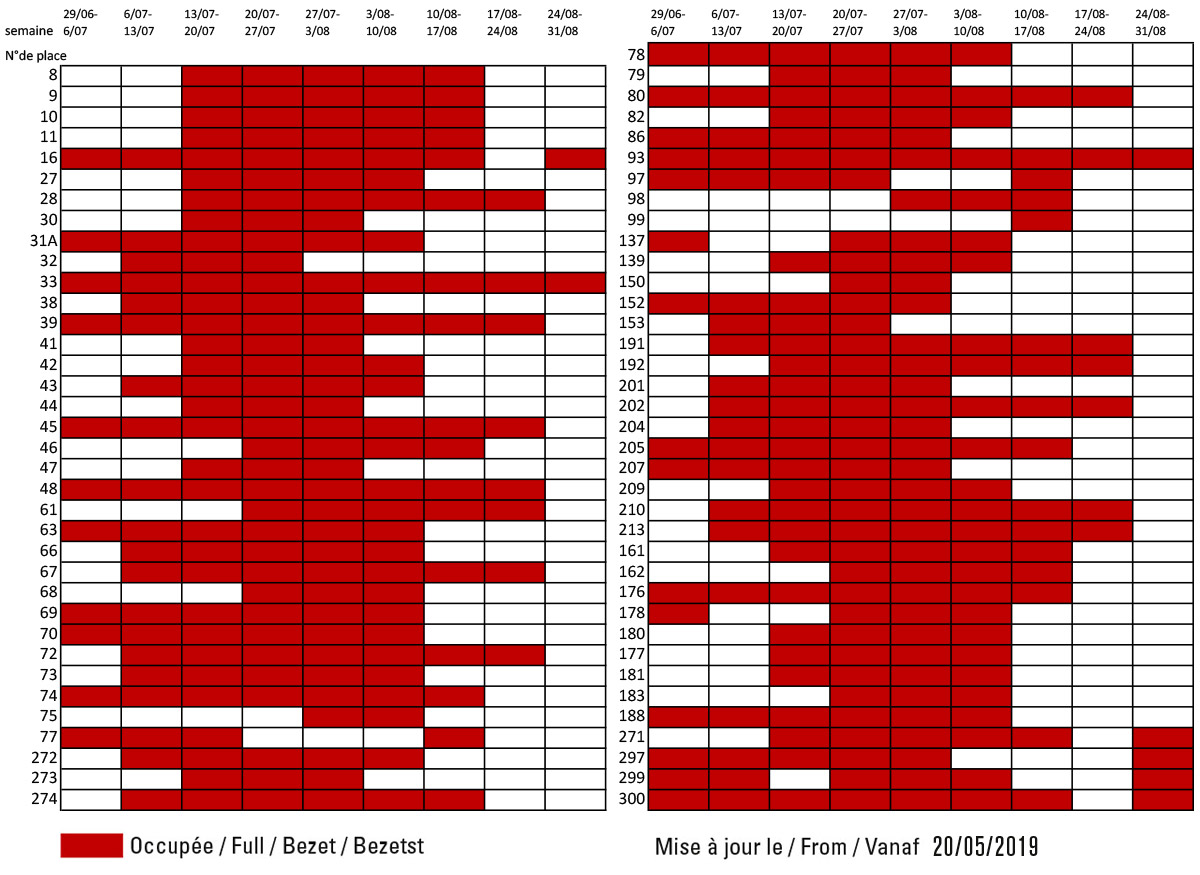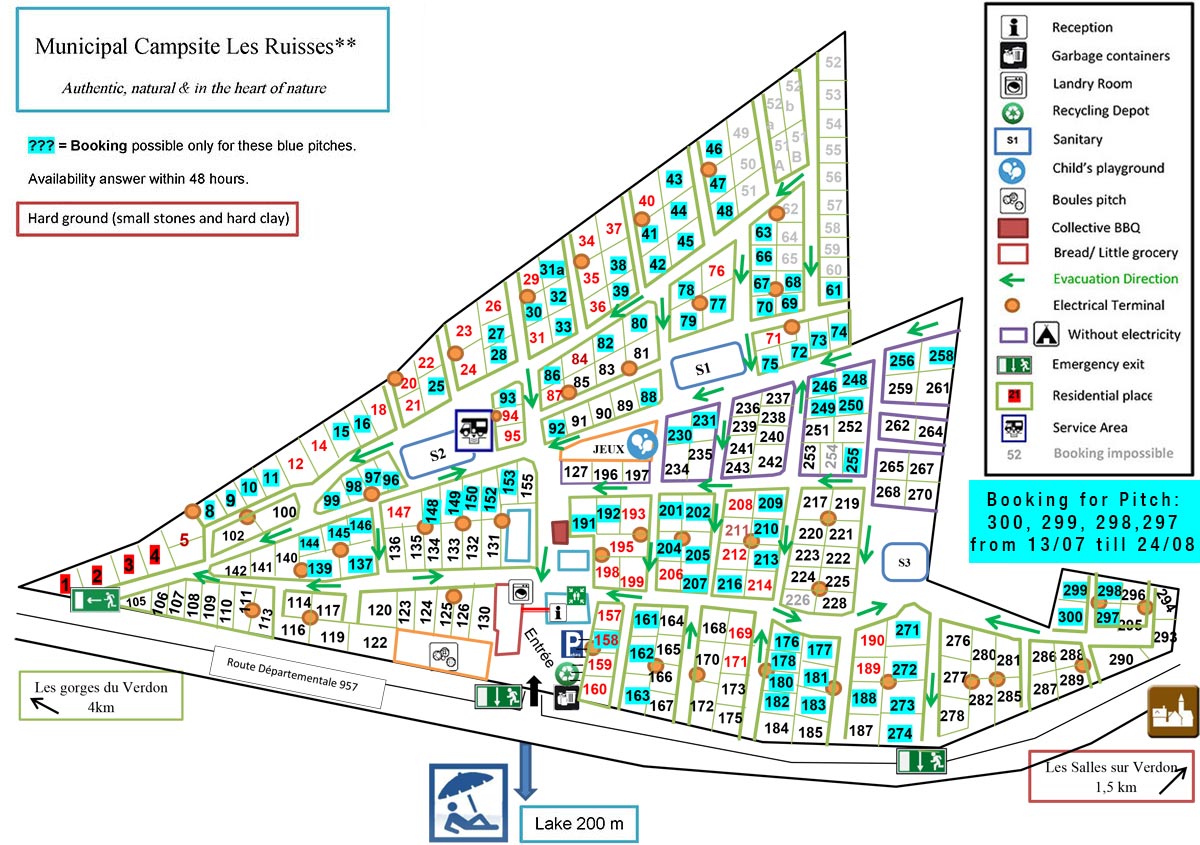 ---
Description of our bookable pitches
---
N°
Place
Instalation
Dimensions (m)
Description
m²
Sun+shadow
Hard ground

8

15
6
90
Clay+small pebble

9

9
10
90
Clay+small pebble

10

10
7
70
Clay+small pebble

11

12
7,5
90
Clay+small pebble

15

12
6
72
Clay+small pebble

16

12
6
72
Clay+small pebble

27

11
7
77
Clay+small pebble

28

11
7
77
Full sun
Clay+small pebble

30

11,5
7,5
86
Clay+small pebble

31A

10,5
8
84
Clay+small pebble

32

10,5
8
84
Full sun
Clay+small pebble

33

10,5
10
105
Clay+small pebble

38

10
9
90
Full sun
GRAVEL

39

10
11
110
Clay+small pebble

41

9,5
9
85
Full sun
GRAVEL

42

10
11,5
115
Full sun
GRAVEL

43

10
8,5
85
Full sun
Clay+small pebble

44

10
8,5
85
Full sun
GRAVEL

45

10
11,5
115
GRAVEL

46

10,5
9,5
99
Full sun
Clay+small pebble

47

10,5
8,5
90
GRAVEL

48

10,5
11,5
120
GRAVEL

61

10
9
90
GRAVEL

63

12,5
8
100
GRAVEL

66

11,5
7
80
GRAVEL

67

11
7
77
GRAVEL

68

10
8,5
85
GRAVEL

69

12
8
96
Clay+small pebble

70

11,5
8,5
93
GRAVEL

72

90
Clay+small pebble

73

12,5
7,5
93
Clay+small pebble

74

12,5
7,5
90
Clay+small pebble

75

10
7
70
Clay+small pebble

77

9
9,5
85
Clay+small pebble

78

8
9
84
Clay+small pebble

79

8
9
72
Full sun
Clay+small pebble

80

10,5
12,5
130
GRAVEL

82

9
9
75
GRAVEL

86

12
8,5
102
GRAVEL

92

9
8,5
76
Clay+small pebble

93

14
8
112
Clay+small pebble

96

15
7,5
112
Full sun
Clay+small pebble

97

14
6,5
98
Clay+small pebble

98

11
7
77
Clay+small pebble

99

8
9
72
Clay+small pebble

137

13,5
8
108
Clay+small pebble

139

13
6,5
84,5
Clay+small pebble

144

8
10
80
Clay+small pebble

145

9
9
81
Clay+small pebble

146

11
7,5
82
Full sun
Clay+small pebble

148

12,5
5,5
68
GRAVEL

149

12,5
5,5
68
GRAVEL

150

14,5
6
87
GRAVEL
N°
Place
Instalation
Dimensions (m)
Description
m²
Sun+shadow
Hard ground

152

14,5
6
87
GRAVEL

153

12
6
72
GRAVEL

161

12
7,5
90
Full sun
GRAVEL

162

10
7,5
75
GRAVEL

163

10
7,5
75
GRAVEL

176

15,5
8
124
Clay+small pebble

177

11,5
8,5
80
Clay+small pebble

178

15,5
7
108
Clay+small pebble

180

15,5
6,5
100
Clay+small pebble

181

87
Clay+small pebble

182

100
Clay+small pebble

188

11,5
8,5
98
Clay+small pebble

191

11
9,5
104
Clay+small pebble

192

9,5
8,5
80
Full sun
Clay+small pebble

201

15
6,5
97
Clay+small pebble

202

9,5
11
104,5
Clay+small pebble

204

9
8
72
Clay+small pebble

205

9
11
99
Clay+small pebble

207

8,5
8,5
72
Clay+small pebble

209

10
8
80
Clay+small pebble

210

10
8
80
Clay+small pebble

213

10
8,8
88
Clay+small pebble

216

10
9,5
95
Full sun
Clay+small pebble

271

100
GRAVEL

272

100
GRAVEL

273

90
Clay+small pebble

274

100
Clay+small pebble
booking possible from 13/07 till 24/8

N°
Place
Instalation
Dimensions (m)
Description
M²
Sun+shadow
Hard ground

297

80
Clay+small pebble

298

85
Full sun
Clay+small pebble

299

90
Full sun
Clay+small pebble

300

115
Clay+small pebble
Pitches without electricity

N°
Place
Instalation
Dimensions (m)
Description
M²
Sun+shadow
Hard ground

230

12
7
84
Clay+small pebble

231

9
9
81
Clay+small pebble

246

10
10
100
Clay+small pebble

248

10
11
110
Clay+small pebble

249

10,5
10
105
Clay+small pebble

250

10,5
10
105
Clay+small pebble

255

90
GRAVEL

256

85
Clay+small pebble

258

85
Full sun
Clay+small pebble